Books: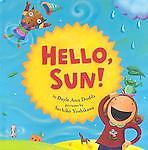 Hello Sun
by Dayle Ann Dodds - This is a cute rhyming story about different kinds of weather and the appropriate clothing to wear for it. I had the kids chime in with the words, "Uh, oh!" when it appeared on the page.
Maisy's Wonderful Weather Book
by Lucy Cousins - This short weather book features moveable parts which just fascinated my toddlers!
Songs/Rhymes:
What's the Weather Like Today?
For this song, which I adapted from an idea
here
, I made a flannel inspired by the one from
Storytime Katie
. As we sang the song, I put up a different circle and asked the kids to guess which kind of weather it indicated.
(
Tune: London Bridges
)
What's the weather like today?
Like today, like today?
What's the weather like today?
It is __________.
(Repeat with the other types of weather)
Weather
One day the sun was shining bright (
hold up one hand
)
But some clouds came along and it became black as night (
hold up left hand for clouds
)
Then the rain began to sprinkle on the ground (
wiggle fingers down for rain
)
And soon it was raining all over town.
But when the clouds passed on by (
move both hands to the right
)
A beautiful rainbow stretched across the sky! (
make a rainbow above head with arms
)
Source