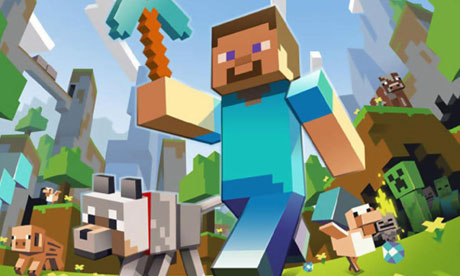 This summer, I hosted a
very
successful Minecraft Build-Off program for teens at my library. Even though I myself am an experienced Minecraft player at home, you don't have to be one in order to put on a program with your teens.
The general idea of Minecraft is that players "mine" resources (wood, stone, diamond, wheat, etc.) and then can "craft" with them and build structures, tools, landscapes, etc. The cool thing is that there really isn't a limit to what you can design and build with the game.
There are two basic modes to Minecraft: creative and survival. In Creative Mode, players are given an unlimited amount of every available resource in their inventory so that they don't have to focus on the finding and mining aspect; they can just focus on being creative and building. The other mode is Survival Mode. Here players have to find and mine their resources before they craft them into the structures they want to build. There are also monsters that come out at night that they have to worry about fighting and a health bar that they have to keep full or else they will die in the game. You can find some tutorials on the basics
here
or by searching on YouTube for Minecraft basics tutorials. The
Minecraft wiki
is also a good place to go to find good information about the various items and materials, keyboard command charts, etc.
There are a couple of ways you can hold a Minecraft program. You can choose to host a one-time build-off where the teens play in their own worlds in Creative Mode. You can also host a server where teens can all play together in the same world in either Creative or Survival Mode.
What I Did:
After talking with another local librarian about how she ran her program and garnering a lot of great advice from others on the listservs I decided to try a one-time build-off program. It is amazingly easy to setup and run. We decided hold the build-off in the Computer Lab on the library PC's. Our IT Department installed the free Minecraft software on the computers ahead of time so that all teens had to do upon arrival was log in. You can get the program from
minecraft.net
.
The one caveat is that teens need a paid account in order to log in and play. Accounts cost $26.95. This wasn't an issue for me as most of the teens in my community already play Minecraft and have accounts. However, you can also purchase paid accounts for the teens to use at a discount from
Minecraftedu.com
. Their accounts cost $18 and then you can let your teens use them during the program. I've also spoken with librarians who purchase gift cards from Minecraft.net to use with teens who don't already have paid accounts.
As the teens arrive the day of the program, ask them to log in to Minecraft. When we are ready to begin, I tell them to click on the following options:
Click on "Single Player" and "Create New World"
Change the Game Mode to "Creative"
Click on "More World Options"

Generate Structures should be "Off"
World Type should be "Superflat"
Allow Cheats should be "Off"
Bonus Chest should be "Off"

Click "Done" and then "Create New World"
I gave the teens 90 minutes to build a structure around a theme, which I don't give them until the day of the programs so they can't make any pre-plans for what they'll build. The theme I chose for this build-off went along with the teen summer reading theme: Beneath the Surface. I asked them to build the best zombie defense they could think of.
Some other theme ideas:
Castles
Houses
Pixel Art
Roller Coasters
Farms
Gardens
Seasonal or Holiday themed
And of course, Libraries!
At the end of the 90 minutes, I went around and had each teen give me a mini-tour of their structure. Then I awarded Minecraft-themed prizes in the following categories: Best Interior, Best Exterior, Most Creative, Best Use of Redstone, and Best Overall. I purchased Minecraft keychains and rubber bracelets from Amazon for prizes. The best overall won a giant foam pickaxe:
One thing I did after the program was to have each teen stay logged in so that I could take screenshots of their creations to share on our Facebook page. I saved the photos to a jump drive then logged them out. Here are some of their zombie forts:
How It Went:
This program was a hit! I could only take 15 teens due to the number of computers in our lab. I had another 15 teens on the waiting list, so at the last minute we added a second session. Luckily, I have an Amazon Prime account and was able to get a second set of prizes! The teens had a blast and they really blew me away with their creativity. It was difficult to choose the winners! Because I saw so many creations at once it was hard for me to keep track. What I would probably do next time is create a judging sheet of sorts with a rubric so that I can quickly score them in different categories using a numeric rating system.
The next step is hopefully to start a regular monthly Minecraft club at the library where teens can all play in the same world together. This would required server space and other extra planning.
Other awesome websites about Minecraft programs:
Have you run a Minecraft program at your library before? If so, did you do anything differently? Feel free to contact me for more specifics or with any questions!