Books: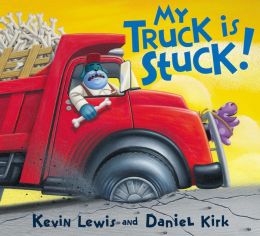 My Truck is Stuck! by Kevin Lewis
- This is a funny counting story about a truck that gets stuck and all of the help that comes along. I had the kids count the vehicles on the page with me and say "Beep! Beep!" with motions to add some interactivity. It was a big hit.
Where's My T.R.U.C.K.? by Karen Beaumont
- This is one of my favorite storytime readalouds. It's got a nice rhyming cadence and a good story to boot. Tommy's lost his T.R.U.C.K. and can't seem to find it anywhere. I put up the Ellison letters T, R, U, C, and K on my flannelboard and point to each one as the kids and I spell out the word together whenever it pops up in the story.
A Truck Goes Rattley-Bumpa by Jonathan London
- This is a short, rhyming story about all kinds of trucks. It was perfect for my toddlers.
Songs/Rhymes:
Five Little Trucks
(w/ flannel)
(
I cut out Ellison truck shapes in different colors for this rhyme.
)
One little truck, it happened to be blue
Along came another, and then there were two
Two little trucks, driving by the sea
Along came another, and then there were three
Three little trucks, driving by the store
Another one drove up, and then there were four
Four little trucks, out for a drive
Along came one more, and then there were five!
The Wheels on the Truck
The wheels on the truck go round and round (
roll hands
)
Round and round, round and round.
The wheels on the truck go round and round
All through the town!
Continue with:
The wipers on the truck go swish, swish, swish... (
swish arms
)
The shovel on the truck goes dig, dig, dig... (
bend arms up at elbow to mime digging
)
The horn on the bus goes honk, honk, honk... (
pretend to pull truck horn
)
Stop, Slow, and Go
Have 3 pieces of paper: green, yellow, and red (I just used construction paper but you could make signs if you are ambitious.). Go over each one - green = march in place; yellow = march slowly; red = freeze. Hold up each one in a different order as quickly as you want to. I did this with my 3 year-old storytime kids and it was a lot of fun!
I got this idea from the
King's County Library System
.
Craft:
Garbage Trucks
I got the idea for this craft from
Storytime Katie
. I found a coloring sheet of a garbage truck from Google Images and printed it out onto plain white paper. We had a TON of tissue paper squares left over from another craft, so I had the kids crumple pieces up and glue it to the sheet for "garbage".