The Plan
:
Books: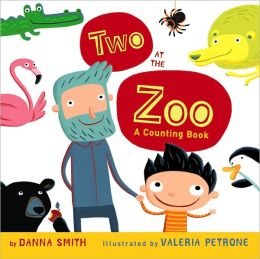 Two at the Zoo: A Counting Book
by Danna Smith
Pete the Cat and His Four Groovy Buttons
by Eric Litwin
Two at the Zoo
is a great book to use with toddlers (and preschoolers) because it has a nice rhythm and rhyme when reading aloud. I also had the kids count along with me on each of the pages.
Because I love the
Pete the Cat
books so much, I decided to go gung-ho and make a flannel out of it. Let me just say that it was a
huge
hit with the kids! Definitely worth the extra effort of making his coat open to show his belly button. (A special thanks to
Storytiming
for the flannel instructions!)
Songs/Rhymes:
"Five Little Monkeys" (w/ Monkey Mitt)
Five little monkeys jumping on the bed.
One fell off and bumped his head.
Mama called the doctor and the doctor said,
"No more monkeys jumping on the bed!"
(Continue with 4,3,2, and 1)
"Five Funny Dinosaurs" (w/ flannel)
(To the tune: Five Green and Speckled Frogs)
Five funny dinosaurs
Let out a great big ROAR!
And ate up some most delicious leaves,
YUM! YUM!
One jumped into the pool
Where it was nice and cool.
Now there are four funny dinosaurs.
ROAR! ROAR!
(Continue with 4,3,2, and 1)
I did not make this awesome flannel. Though I wish I had!