This week, we got our hands dirty in storytime and talked about being messy!
The Plan
:
Books: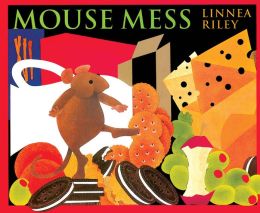 I Ain't Gonna Paint No More
by Karen Beaumont - I love this book. It teaches kids about different parts of the body and has a great rhythm. I purchased some large kid's paint brushes and had the kids "paint" themselves as I read the book. It was great fun!
Mouse Mess
by Linnea Riley
Other books you could use:
Mucky Duck
by Sally Grindley
Muddypaws
by Moira Butterfield
Dog's Colorful Day
by Emma Dodd
Not Me!
by Nicola Killen
Big Smelly Bear
by Britta Teckentrup
Rhymes/Songs:
"
Five Pigs So Squeaky Clean
" (w/ flannel)
"This is the Way"
(To the tune: "Here We Go Round the Mulberry Bush)
This is the way we wash our hands (rub hands together)
Wash our hands, wash our hands
This is the way we wash our hands
So early in the morning!
Continue with other body parts (arms, belly, legs, teeth, etc...)
Craft: I Ain't Gonna Paint No More body painting
I found a body outline on Google Images and printed it out onto regular paper. Then, I purchased
Crayola's No Drip Paint Brush Pens
so that the kids could experience using watercolors without all of the mess. Just in case though, I had some smocks on-hand. Can I just say that this product is genius? There was virtually no mess involved and the little mess there was, was easily cleaned up with a wet sponge or baby wipe.